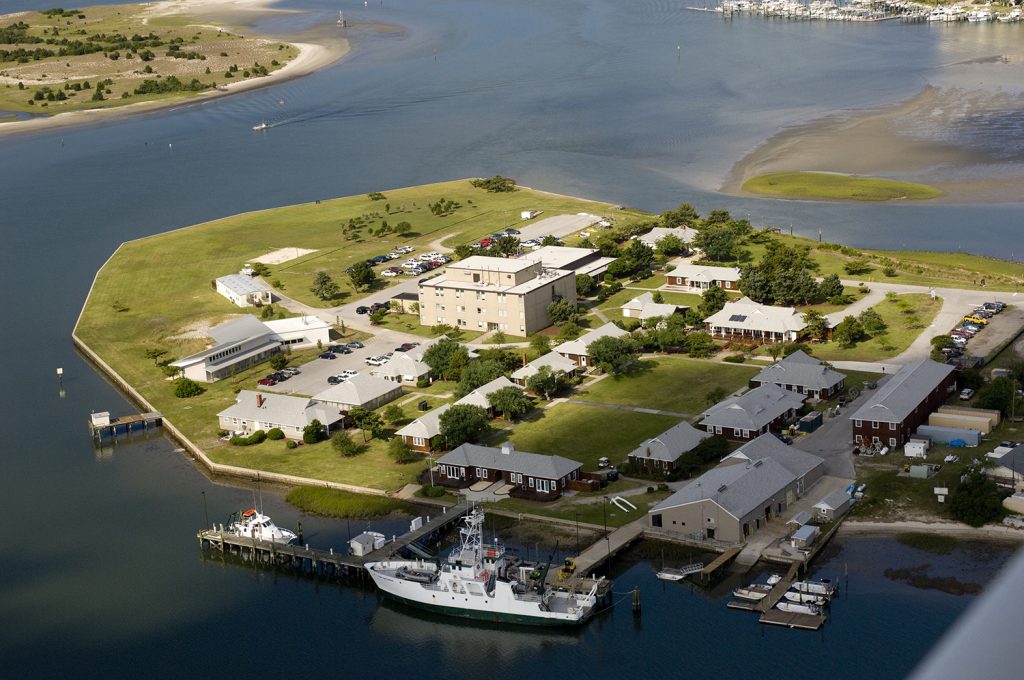 Participants in the Marine Lab program will have the option to live on campus (in Durham, not at the Marine Lab) during the majority of the program. Please note while DukeEngage will not pay for housing, students may use their award money to cover the cost.
Overview
DukeEngage's Conservation and Community program supports organizations in rural, coastal NC with educational and conservation missions that deal with the socioeconomic realities of climate change on the coast. Realities such as increased storms, collapsing fisheries, sunny-day flooding, shoreline erosion, changing economies, habitat degradation, sea level rise, and more.
Students in this program will work with the Community Science Initiative (CSI) at the Duke Marine Lab, an initiative that increases community engagement through research. By working with the CSI's community partners, students will work with trusted community groups and contribute to their on-going environmental, educational and conservation projects. Virtual support for these organizations can come in many forms and may include activities such as: conducting research, developing curriculum, designing new programs, recording and analyzing data, evaluating programs, creating online/social media content, writing and designing manuals/policy briefs, designing software, and more. For example, students may work on marine debris action plans, create micro-business plans around shoreline restoration products, assist schools with STEM programs to create opportunities for rural students, conduct background writing/research for conservation programs, and work with non-profit groups to assist rural communities with changes related to sea level rise. Students will recognize the complex nature of how sea level rise and global climate change affects NC's coastal communities, learn about the unique set of issues that rural non-profits face, and help those non-profits on a variety of projects.
Partnership Opportunities (Virtual)
Potential partners and projects are listed below. We will do our best to match you with your preferred community partner, but because we work with ever-changing community needs, students must be willing to work with all partners.
Marine Lab Community Science Initiative: connecting research to outreach programming, creating citizen science projects, working on resilience projects, assisting with online content development and delivery, and supporting the marine debris and water quality teacher programs.
NC Coastal Federation: creating story-maps in GIS to use on their website, and organizing/analyzing some tide and flow data etc. from a few restoration projects.
Wildlife Resource Commission: helping with sea turtle conservation, spearheading the revision of the Handbook for Sea Turtle Volunteers in North Carolina, collating and processing data through various databases, including sea turtle nesting data, sea turtle stranding data, diamondback terrapin occurrence data, etc.; and organizing the photo database for stranded sea turtles in North Carolina.
Core Sound Museum: creating exhibit content about sea level change and coastal resiliency, and assisting with their online presence.
Carteret County Public Schools: developing programming and academic support for rural schools in Carteret County.
Boys and Girls Clubs of the Coastal Plain: creating content for the clubs, and assisting the head office with marketing, social media, and website content.
Rachel Carson Ecological Research Reserve: organizing historical and current natural heritage records for coastal nature reserves, creating short multi-media clips, entering data, and analyzing data on the wild horses at the reserve (photograph analyses).
Local governments: creating programs, educational materials, and policies to help residents improve local water quality, mitigate storm water runoff, and restore shoreline habitat.
Keep in mind when applying that this program will observe Eastern Time.