The COVID-19 pandemic was isolating for many, including kids who lost opportunities for social interaction and development. To address this challenge, DukeEngage Beaufort students created and presented fables in a workshop for middle school teachers and students at Carteret County Public Schools (CCPS) to help kids work through obstacles using a framework developed by the Resiliency Solution.
These fables taught lessons about the importance of community connection, intergenerational learning, and flexibility, through fictional stories featuring marine characters. Several of the fables have been featured on the Duke Marine Lab's "Seas the Day" podcast hosted by Program Director Liz DeMattia and Site Coordinator Laura Givens.
Students received inspiration for their fables by looking at examples of resilience in nature, focusing on various pillars of resilience, including self-awareness, self-regulation, strength of character, optimism, mental agility, and connection. The fables combine ecological and personal styles of resilience, connecting conservation education with personal development.
The first podcast of the series features DukeEngage Student Amy Buckalew, who reads her story of Ollie the Orca, the tale of a young orca who leaves his pod seeking independence. Ollie learns the importance of teamwork, interdependence, and gratitude. East Carteret High School Sophomore Maggie Murray volunteered to bring the fables to life with her illustrations. You can read the illustrated version of Ollie the Orca here.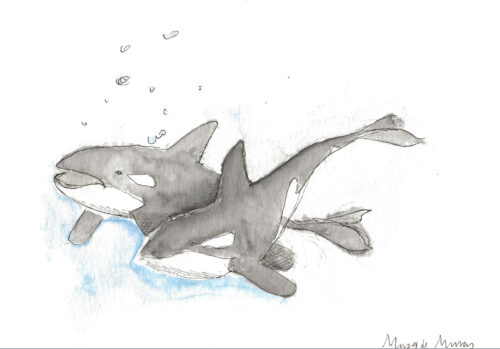 The second podcast features the story of Gilbert the Grouper, written and read by DukeEngage student and rising sophomore Andres Hernandez. The fable follows the journey of a young grouper mourning the loss of his parents and transitioning to a new lifestyle living in the mangroves. Gilbert finds connection and friendship in his new home and demonstrates mental fortitude and optimism through recovering from a traumatic loss. You can read the illustrated version of Gilbert the Grouper here.
The third and final installment of the series tells the tales of The Live Oak and the Wind and Terry the Tree, written by DukeEngage students Rory McCollum and Spencer Moyle, respectively. The Live Oak and the Wind follows the journey of a young oak tree named Quint, learning to deepen and intertwine her roots with her fellow oak trees to withstand and recover from turbulent storms. In Terry the Tree, a sapling named Terry encounters a bug infestation and learns to lean on his community for support and face future natural disasters through teamwork and cooperation. You can read the illustrated versions of The Live Oak and the Wind here and Terry the Tree here.
The illustrated versions of the fables also include questions for discussion and supplementary activities for teachers to facilitate hands-on learning. The DukeEngage team also trained 20 local high school students to continue serving as "Resilient Mentors" for the remainder of the summer.