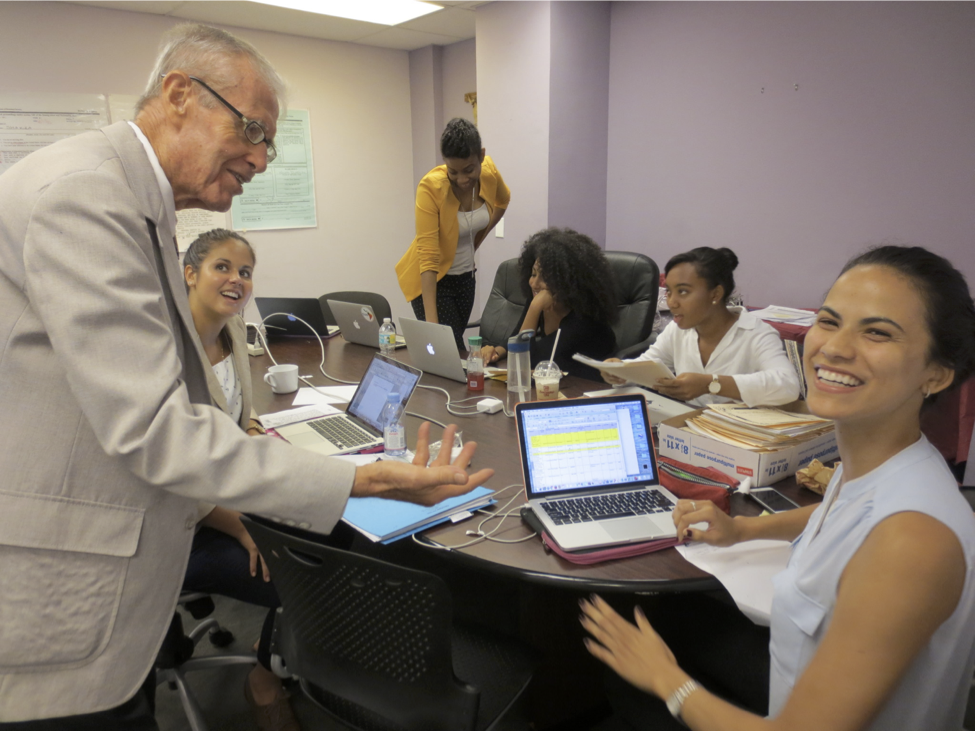 Overview
During their two months in DukeEngage Miami, students will work with nonprofit organizations that provide services to the multi-ethnic Miami-­Dade area, a county with a 46 percent foreign-­born population. The nonprofits with which students work provide legal support and advocacy for immigrant and non-immigrant youth and adults on immigration and refugee claims, domestic violence, sexual harassment, prisoner's rights, disability discrimination, and housing issues.
The Miami site was chosen because of its diverse immigrant communities. The program is subtitled "The Many Faces of Miami." By this we refer to all of the following: Miami as a U.S. city nicknamed "the capital of Latin America;" Miami as one of the highest-percentage-­Spanish-­speaking cities in the U.S.; Miami as home to several distinct waves of Cuban-American immigrants; Haitian-American immigrants; Miami more recently as a global city, flavored by immigration from Latin America as a whole and from the Caribbean specifically; Miami as socioeconomically diverse; Miami as a Duke alumni home and network; Miami as a place of interesting politics, art, cuisine, and culture as well as exciting international entrepreneurship and law. Throughout our program, we will explore and reflect on these many faces together.
Students will broaden their perspectives on diversity, legal, and public policy issues; improve interpersonal skills; develop civic responsibility through active community involvement; and become comfortable working with cultures other than their own.
Community Partnerships
Each summer the work changes depending on the needs of the organizations and the language abilities of the students. Students who are able to speak Spanish,  Haitian Creole, or French generally gain more direct access to clients, but English speakers are also able to contribute with other skills. Recent students have worked with the following organizations:
Catholic Charities Legal Services (3-4 interns): Students have worked directly with lawyers and support staff, representing low-income immigrants, managing exile and refugee cases, and assisting clients to gain access to social services. Students have prepared country profiles, performed intake interviews, translated documents, interpreted for lawyers, , and assisted with grant writing.
Florida Justice Institute (0-1 intern): Interns will be asked to write legal research memoranda, draft discovery requests and other legal pleadings, participate in client interviews, review and organize discovery, draft letters and public records requests, review and respond to letters from incarcerated people and their families seeking assistance, and attend hearings, trials, depositions, mediations, settlement negotiations, and oral arguments.
Dade County Legal Aid (2-3 interns): Students have assisted in the recruitment of pro bono lawyers, the creation of newsletters, and the management of social media. Depending upon the placement, students may work with families and adults in a variety of contexts including social services, housing, and legal representation.
Exchange for Change (1-2 interns): Responsibilities will include social media posts for our events, and being responsible for the collecting, organizing, transcribing of submissions for the fifth edition of our literary magazine, Don't Shake the Spoon, and other possible publications, including creating zines from class submissions. If there is still time, depending on the skill set of the student, they can assist with outreach for our prison visits, office administration work, and attending classes inside the prison.
Perez Art Museum Miami (PAMM) (2-3 interns) During the course of 8 weeks, interns will work collaboratively and on a rotating basis with PAMM Staff members from different departments and support with daily administrative tasks and special projects. Some of these museum departments may include Curatorial, Collection Management, Development, Retail, Visitor Services, Human Resources, IT, Finance, Special Events, Education, Digital Engagement or Marketing. Through administrative work assignments and projects, the intern will further develop important skills such as time management, communication, teamwork, collaboration, accountability, and leadership. The intern will also have the opportunity to network with PAMM employees and learn about career paths through brown bag lunch meetings.
Program Requirements
Language: Second language proficiency is very beneficial though not required. Preference will be given to students with intermediate to advanced Spanish, Haitian Creole, or French.
Coursework: Preference will be given to students who have taken courses related to immigration, Latino/a or Latin American & Caribbean Studies, languages mentioned above, cultural competency, public policy, law, human rights, social justice, or political science.
Skills: Depending on the placement, social media skills, experience with low-­income and/or immigrant communities, and previous civic engagement work are desirable.
Personal Qualities:
Teamwork: Since students will be working with a lot people they have never met before, it's important they know how to cooperate with others to get the work done (team effort).
Patience: This is the key for people to adapt to a different climate as well as a different work environment, especially in an area where people may speak Spanish more than English.
Communication skills: The capacity to work things out with others respectfully.
Responsibility: Be responsible to get the task assigned to you well done. Be on time and a full participant in all scheduled events.
Motivation: Students should be ready to take initiative, going above and beyond the tasks assigned to them.
Logistics
Housing, meals, and transportation: Students will be housed at the University of Miami campus.  Students will receive a stipend for their meals and will either prepare their own food or dine on campus. As far as transportation is concerned, students will travel to and from their workplaces via public transit (a 35-45-minute train ride).
Local safety, security, and cultural norms: If you have special needs related to health, culture, disability, or religious practices, we encourage you to contact the program director(s) or the DukeEngage office to discuss whether your needs can be accommodated in this program.
For guidance on how race, religion, sexual/gender identity, ability, or other aspects of identity might impact your travels, we suggest exploring the Diversity, Identity and Global Travel section of the DukeEngage website.
Academic Connections
This program is open to all, and might especially appeal to students taking language courses such as Spanish, Haitian Creole, and French as well most classes in the field of Humanities.
Students who participate in this program might go on to pursue courses, certificates, research projects, etc. in the Department of Romance Studies, the Humanities, and in Law. However, students will be well prepared through this program to undertake any career that prioritize the needs of people over profits.
Potential program cancellations
DukeEngage cannot guarantee that any program will occur. Programs may be cancelled for various reasons, including COVID considerations.
Student Reflections from 2022
Photo Gallery: DukeEngage Miami
Note: Image links opens full image and gallery in lightbox dialog window.