Sài Gòn
The cohort spent the first few days of the DukeEngage Vietnam program acclimating in Ho Chi Minh City (commonly Sài Gòn). Formerly the capital of South Vietnam and currently Vietnam's largest city, Sài Gòn is as fun as it is hectic. Between Orientation, Vietnamese language classes, and dodging traffic, we found time to go to karaoke, visit the War Remnants Museum, and eat plenty of the city's famous street food. Bến Thành Market (above) featured rows upon rows of stalls with vendors selling everything from fresh meats and produce to Zion Williamson jerseys.
Quảng Trị
The view from the guest house in Quảng Trị, our home for the remainder of the project.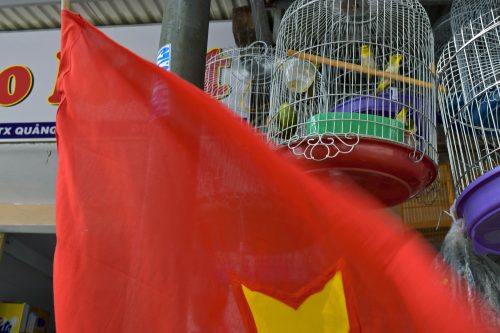 Lực (pictured above) is my roommate, and the best part of this experience. Like many of the other Vietnamese roommates, he is studying English at his university and wants to become a translator. Before he was involved in a motorbike accident that required hospitalization and surgery, Lực and I would get smoothies most weeknights and watch the sunset from our little plastic chairs.
When I asked the shop-owners (below) if I could photograph their Durians, they kindly agreed and insisted I take another with them standing proudly beside them.
Rice Paddies
The group took advantage of the first free weekend in Quảng Trị by biking through the nearby rice paddies.
Huế

Huế Citadel
As the former imperial capital during the Nguyễn Dynasty, Huế offers a lens into Vietnam's robust history as an independent nation. The Citadel hides the Imperial City, largely destroyed by fighting in the Battle of Huế, part of the Tet Offensive. Though U.S. troops were instructed not to target the City in fighting, only a small portion of the Imperial City's historical structures remain in their original form.
Perfume River
On the bus, Bảo told me that, to understand the culture in Huế, all one had to do was look at the Perfume River. The city, he said, borrowed its philosophy from the river's slow current. Fondly, he said that people in his hometown seemed to be in no hurry to get from Point A to Point B compared to the rat race of Sài Gòn.

Phú Lộc
Photo credit: Jack Wang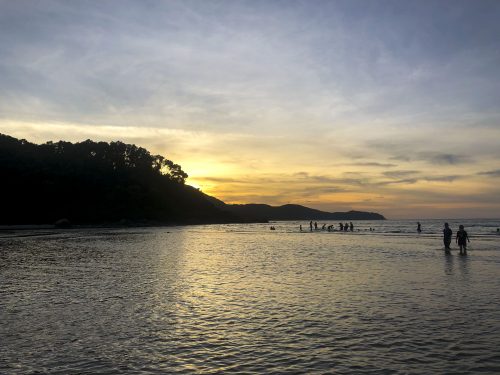 After two weeks of construction and teaching, the sunset over the beach in Phú Lộc offered a much-needed opportunity for relaxation and reflection. On a trip that has provided some significant trials, the country always seems to offer a refreshing perspective at just the right time. Beyond the beauty of its stunning landscapes, Vietnam boasts a culture that uniquely values each human life. Delicious food and breathtaking scenery certainly don't hurt, but where I am truly able to find joy and fulfillment here is in my interactions with each person I meet. Without the help of my co-teachers, the sheepish smiles of my class of eighth graders, or late night jokes with Vietnamese roommates, I would be completely lost in this country. Instead, I've found a home here that I know I will miss as soon as I return to America.