June 15th was the start of our first free weekend in Costa Rica. We were invited to play ultimate frisbee at the Friend's School near the Monteverde Institute. We played a couple of rounds after splitting up into three teams, joined by Deb's son Liam, Rachel Kulick, a professor from UMass Dartmouth, and the Change the World Kids.
The following Monday was our first day at Finca Rodriguez, a former coffee plantation that is now being used by the Monteverde Institute for reforestation research. The farm consists of numerous plots where the institute is researching a number of experimental variables to educate future reforestation efforts. For instance, there are experiments that are testing tree survivorship when planted on sloped vs. flat land, when maintained or not maintained, and when fertilized or not. While there, we also paired up and recorded data about each sapling present, writing down their heights, number of leaves, and damage, as well as checking for the presence of epiphytes, bryophytes, and lichen. In addition, we started to learn how to identify trees and several members of our cohort were assigned personal trees to study and remember.
During this week, we also moved down the mountain from Hotel Valle Escondido to The CIEE Campus located in upper San Luis. While there, we planned a number of fun activities including night hikes, dancing,  and cow-milking.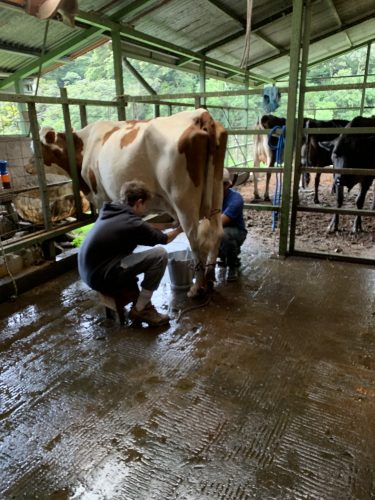 On the 23rd, we also had the opportunity to attend the San Luis festival. In the morning, there was a 25 km race with walkers, runners and cyclists. In the afternoon, we got to watch the carreras de cinta where horseback riders tried to put a peg through loops hanging from a wire.
We sampled local food while watching riders of all ages try their luck. In the evening, the entire community came together to play bingo which surprisingly competitive but super fun.
That weekend, we prepared to head down to Manzanillo, in the lowlands on the coast of the Gulf of Nicoya. There we stayed at a hotel called La Ensenada. Planting in the lowlands was extremely difficult. It was much hotter and the bugs were even more abundant. On the flip side, La Ensenada was beautiful. Not only was the food incredible, but their pool was a wonderful reward after a hard morning of planting. As of June 30th, we have planted almost 3000 trees.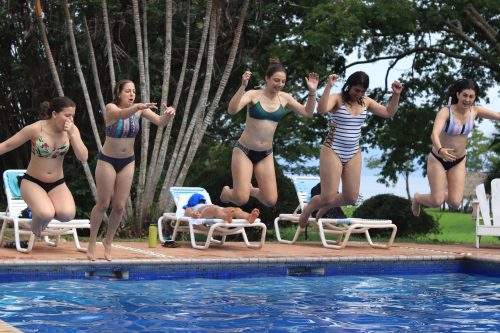 When we return from La Ensenada, we will be moving into the La Calandria field station. La Calandria is home to the Monteverde Institute's largest tree nursery and is also the site where we will be conducting our forest integrity research.
Until next time, Pura Vida.