Last night, our group went to a panel to listen to some of Durham's most influential women talk about the economic development they've seen here throughout their years working for the city and non-profits in the area. The four speakers were Ellen Reckhow, the Durham county commissioner; Stelfanie Williams, Duke vice president for Durham and community affairs; Casey Steinbacher, executive director of Made in Durham and former CEO of the chamber of commerce; and Lois Delaotch, executive director of Self-Help.
The panelists spoke at length about they helped transform Durham's downtown core into what it is today, as well as how they have successfully recruited S&P 500 companies to Research Triangle Park. They also gave us a peek behind the curtain at the ways Duke has contributed to both of those endeavours. We learned how Duke has been incredibly influential in maintaining and leveraging relationships with people in large companies in order to convince them to relocate to RTP. Duke has also consistently been among the leaders in relocating their operations to downtown in order to stimulate the economic growth in that region.
The panelists emphasized that they could not have possibly anticipated the stunning success that followed their efforts to make Durham a desirable destination for both people and businesses. Due to the incredible growth in the region, there have been significant spikes in rent prices. This means that Durham now faces another challenge: gentrification. People in poorer areas of Durham have been displaced by developers. With no affordable housing options in the areas of the city with better infrastructure, many people have been forced to relocate. All the panelists stressed that this is an urgent issue that we all must work to address.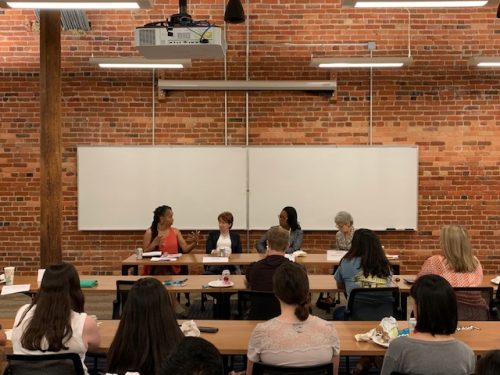 My placement is at Threshold, a clubhouse for adults with mental illnesses. It has been going fantastically. Threshold follows the clubhouse model, which means members are viewed as partners in their own recovery rather than patients that need treatment. In order for members to learn social skills, life skills, and achieve employment, they work with staff to run and operate the clubhouse. This includes work like making lunch in a kitchen, operating a snack bar, and operating a clerical unit. My partner and I have been placed in a fourth unit, the career services department, where we serve as technology liaisons for people who want to learn more about computers. We will be teaching a weekly computer class starting on Tuesday, as well as helping people with their day to day issues with technology. I expect that this service will probably have many invisible and hopefully long-term benefits. But some benefits have been immediately visible. Two days ago, for example, I helped a man learn the difference between email and instant messaging, and helped him text his daughter using Google hangouts.
You can check out the Threshold blog at thresholddurham.home.blog, which my partner and I will be running while we're here. All in all, I am very excited for the month to come.