The past 2 months, we have seen things on the street that are completely novel to us, anything from a home-brewed kombucha advertisement to an all vegan high-end restaurant. In these cases, the only response we could ever come up with was the exclamation "only in Seattle…," sometimes in admiration, sometimes in fascination, and sometimes with laughter and a little bit of an eye roll. This is a compilation of a few of those moments, or the things that will catch your eye in Seattle if you are not a local:
Let's start with the kombucha. As an member of several health and fitness communities, I have been around this drink a lot (although I am not personally a huge fan). However, this popular fermented beverage has a greater presence in Seattle than anywhere I have ever seen. Several businesses, including this urban farm and general store, Portage Bay Grange Feed and Mercantile, had their own homemade kombucha on tap for sampling and purchase! I usually can't seem to get past the beer-like scent as I drink kombucha, but even I was able to stomach a sample of their pineapple brew. I highly recommend it to kombucha-lovers.
For more granola vibes, we can look to the demand for plants in Seattle. To the right are mushroom logs from Pike's Place Market filled with mushroom seeds that only require water to start growing. In my house, the closest I came to these were my water-expanding animal sponges. Not pictured is a shop I found whose sole focus is succulent plants. The entire shop window was filled with countless rows of these low-maintenance house-plants.
Additionally, there are many P-Patches throughout the city. This does not refer to patches of peas, as I originally thought, but rather a public garden where neighboring residents can temporarily obtain a plot for personal gardening. A family friend of mine brought me to her patch, a very cute well-maintained square of kale and fresh greens. That exemplified great dedication in my eyes, but she quickly pointed out her neighbor's shockingly tidy row of glowing corn stalks. The veggies were gorgeous, and the soil below was flawlessly, diligently weeded–that was the most impressive part. Seattle-ites are passionate gardeners and plant-lovers.
One of my favorite aspects of the city is its diversity of food and eating spaces. I realized as soon as I arrived in Seattle that I needed to eat my way through the city, but I barely made a dent. Indy Chocolate shop (for chocolate and coffee) near Pike's Place has a modern-industrial feel with homemade chocolate from Ecuadorian beans, teas, and coffee drinks–sometimes made with their own chocolate too (try the Mocha). In UDistrict, Thai Tom's delicious, SPICY curry won my heart and soul at a low-lit, slightly cramped countertop with a few surrounding tables that the waiters squeeze between.
The incredibly unique flavors earn Seattle restaurants additional brownie points. Frankie and Joe's all vegan ice cream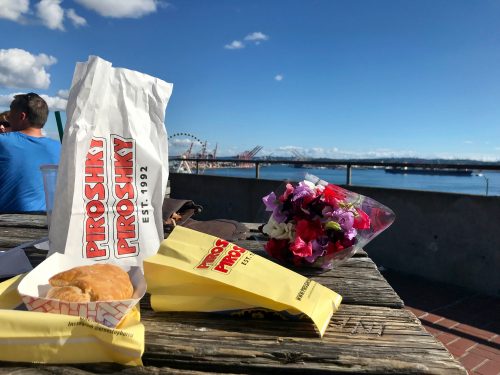 shop features delicious and unique flavors like "golden milk" (spiced and brightened with ground turmeric). And I was sad to miss the Marination Station, a restaurant that fuses Hawaiian-Korean cuisines.
At all of these places, atmosphere is just as important as taste. My favorite place to hang out was Rachel's Ginger Beer, right at the entrance of Pike's Place. First of all, where else would you find an entire business dedicated to homemade ginger beer? This place feels like a casual daytime bar with both non-alcoholic and alcoholic drinks, so it is fitting for any age group. It was so nice to find an inclusive bar that let's anyone "go out for a drink" when under 21. With its natural lighting, this is such a fun place to hang out and cool off from the sun after exploring Pike's Place.
While we make fun of Seattle for its ultra-granola/crunchy/hippie/whatever-you-want-to-call-it vibes, its emphasis on increasing environmental consciousness is vital for any city, especially those that are expanding and sprawling as rapidly as Seattle. Some of its eco-friendly characteristics are obvious. For example, all residents are required to compost, which by the way was a disaster for some of us (my roommates and I), who were unpleasantly surprised by a colony of black mold surfacing on the outside of our first compost bag (definitely recommend a bin).
Sometimes the effects of urbanization are combated more subtly. The tree to the left and the surrounding gray material blends in with the sidewalk and road's asphalt. However, it represents a method for decreasing impervious surfaces in cities. Materials like concrete and asphalt prevent rainwater absorption in the city streets, decreasing groundwater supply, increasing water pollution, and heightening flood risk. These trees and their surrounding porous material are zones throughout the city where water can permeate the ground.
Some of the most wild parts of Seattle are its views. There were times when Puget Sound, the city's skyline, and snow-capped Mount Rainier competed for my attention. These contrasting landscapes are fascinating. But there is something about massive industrial cranes at the shipping docks blocking my line of view to the ocean and Mount Rainier that is also disturbing.
My mixed feelings are caused by the double-edged swords that tons of other cities face–the beauty of the sky-high city lights contrasted by the environmental damage of the buildings, or the rapid economic growth of Seattle shadowed by drastic gentrification and displacement of people. As another Seattle Duke Engager discusses in an earlier blog post, two months in Seattle has definitely shown us both the good and the bad of the city, causing admiration and disillusionment with the city. I am grateful to have been there for two months because it allowed us to not just be tourists–like I am in many of these photos early on in the trip. The more complicated pieces of the city are not things I could easily photograph.