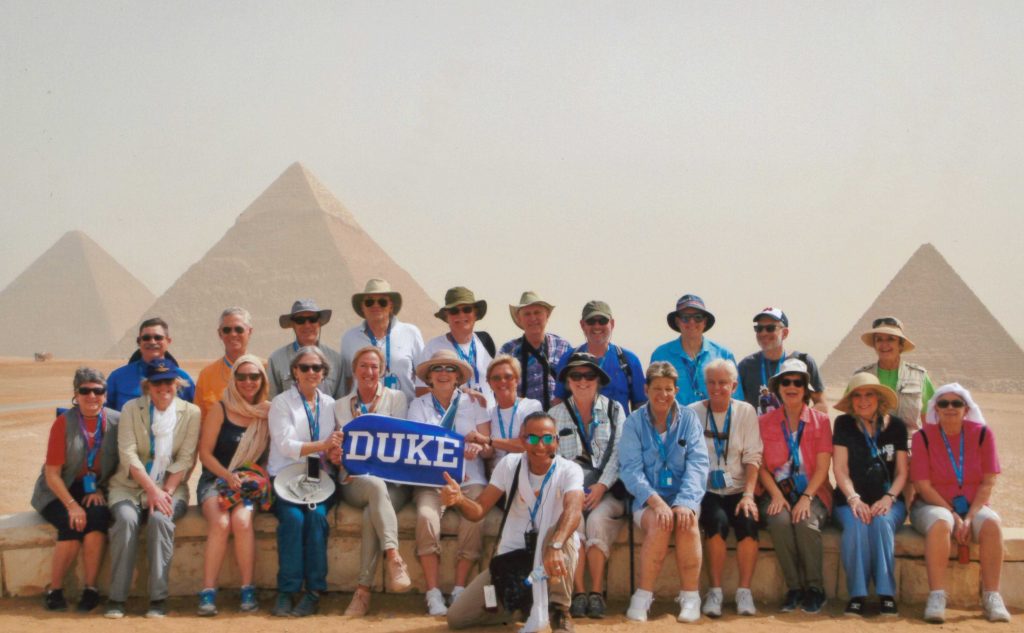 In March 2018, Eric Mlyn joined 22 Duke Alumni on an educational and cultural exploration of Egypt. He wasn't there to lead the tour; instead, he was there to provide some context about the country's political past, present and future.
"I'm no expert on the pyramids," laughed Mlyn, the Peter Lange Executive Director of DukeEngage and Duke's Assistant Vice Provost for Civic Engagement. "I'm a political scientist though, and I can share that perspective about Egypt."
The 15-day journey into Egypt, organized by Duke Alumni Association, began in Cairo with visits to the Egyptian Museum and the open-air museum at Memphis, where the group saw the Sphinx. They continued to Sakkara and the Pyramids of Giza, Lake Nasser, the "Valley of the Lions," and the temples at Abu Simbel and Kalabsha. They cruised the Nile from Aswan to Luxor, and they visited Petra, the fabled "rose-red city, half as old as time." (See details.)
Along the way, Mlyn delivered several formal presentations and participated in countless conversations about the country's social and political landscapes.
Five years ago, Mlyn spent a semester on sabbatical in Egypt with his family, while serving as a Senior Fellow at the Gerhart Center for Philanthropy and Civic Engagement at the American University in Cairo. "There's something about Egypt that got under my skin in a way not many places do," Mlyn said when he agreed to participate in the excursion as a faculty leader.