Article by Sarah Rogers, Assistant Director for Communications, Kenan Institute for Ethics
Kelsey Zavelo, a doctoral candidate in History who has served as a Site Coordinator for DukeEngage for three years, recently published two blog posts about archival findings in the Rubenstein Rare Book and Manuscript Library.
As the Eleonore Jantz Reference Intern at the Rubenstein Library, Zavelo is reprocessing the Joseph Ingram, Sr. Papers so that the catalog and collection guide will include references to enslaved and freed persons. After discovering a letter from a formerly enslaved man, Jacob Chiles, to Ingram, his former master, Zavelo dug deeper into the papers to find more clues about Chiles' life, and developed compelling theories about how he came to Ingram household, how he learned to read, and why he was manumitted.
Zavelo reminds us that first-person accounts from formerly enslaved persons like the Chiles letter are relatively rare. Its contents are striking: Chiles insists that there is a value and dignity in laboring for pay that cannot be experienced under the conditions of slavery, and he makes heartfelt requests to be remembered to his family members and friends still under his former master's ownership.
"I see the Chiles letter as contributing to the Rubenstein Library's anti-racism initiative," Zavelo wrote, citing the library's goal to "uncover marginalized voices in our collections."
Zavelo sees a great deal of overlap between her research and her work with DukeEngage. She was the Site Coordinator for the DukeEngage Cape Town program in 2016, 2017, and 2018, which focused on a comparative study of apartheid South Africa and slavery, Jim Crow, and racial stratification in the United States. Her dissertation focuses on the apartheid government's connections to the American conservative movement, as well as the connections between anti-apartheid and civil rights movements in the United States.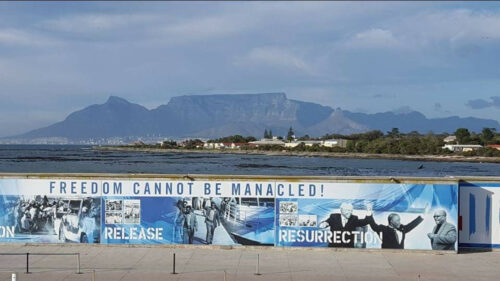 "I loved working with the DukeEngage-Cape Town program," she wrote, "because our students always arrived eager to learn how the legacies of colonialism and apartheid continue to shape life in South Africa and ready to work with community partners pursuing justice. As historians, what the co-directors and I tried to do was help students understand that there was nothing inevitable about apartheid or the Black freedom struggle: all sides required leaders, fresh ideas, adherents, resources, and constant work."
Zavelo will rejoin DukeEngage this summer as the Site Coordinator for Eric Mlyn's Washington, D.C. program. "I'm excited to bring this perspective to a new group of students eager to work with organizations in Washington, DC on issues related to American democracy."