Overview of Work
Last week, we OEWD interns facilitated orientation sessions for the YouthWork interns by helping to check them into the orientation, collecting their documents, and helping to lead soft skills training classes.  After weeks of dealing with files and folders, it was great to finally put faces to all the names that, honestly, we could almost recite off of memory by now.  The more that I perform the tasks needed for OEWD, the more I'm shocked at how much manpower is needed for rather basic secretarial work.  It's incredible to me that we do a lot of the background work, but someone needs to do it, because this work is the requisite for taking any of the other steps.
On the side, I've interacted with two or three of the staff who work at OEWD; though our conversations are short, they each seemed genuinely interested in how we have been doing, and even mentioned that we can reach out to them as a resource in the future, too.  I think it's exciting to meet these people, one of which is the Director of Economic Development at OEWD, because we can then learn about the work that they do for the greater Durham community.  We will have another checkpoint for training orientation this coming Friday, June 30th.
Durham Adventures
The longer that I stay here in Durham, NC, the more that I realized how little I've learned about it during my freshman year at Duke.  Tiff and I have been going to weekly "Beyu Talks" at the Beyu Caffe in downtown, which have been a wonderful exposure to certain affairs in the city.  The talks usually have a panel of people who are involved with and/or have authority in these topics.
For example, one talk called "Mobility in the City of Medicine" was about transportation issues in Durham, and how public transport routes can seriously affect when and how people get to work, as well as the amount of crowding that happens that can influence small businesses.  Out of four panelists, one panelist was the Director of Transportation, and another held a leadership position for GoTriangle.  They discussed the beginning of a rail project to create a light-rail around the city, especially when there is a need, as they mentioned, to connect North Durham directly to Duke and not through downtown.
Another talk was called "Legal Sips" and a local attorney answered questions about the process and considerations involved when any sort of creator (artist, musician, web designer, etc.) wants to establish intellectual property rights.  I think it's extremely relevant to Durham now that I've learned what a tight arts community exists here; Tiff and I guessed that some members of this audience may be entrepreneurs or artists looking to make a name of their work.  Transportation methods are something that I also think about daily because I take the Bull City Connector and observe the lower-income demographic who take this free bus.  This is therefore also relevant to the needs and circumstances of this city and its citizens.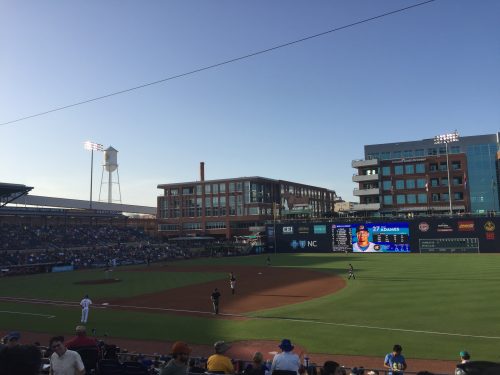 Durham's Mayoral Election
One side topic I wanted to bring up is the mayoral election that is coming up this fall.  Several weeks ago, Tiff and I attended a free rooftop party where the performing band's lead singer is currently running for mayor of Durham.  I remember my initial reaction being one of amazement, but also with a "just-Durham-things" attitude.  With Durham having such a prominent arts scene, it almost shouldn't be surprising that a potential political figure is also a renowned artist himself.  Though I have no strong support yet for any of the candidates, I was happy to have been exposed to this coming election, and it makes me even more curious to learn about the candidates.  This city is one known to have extreme tenacity in political, social, and cultural affairs, so it would be incredible to play a role in that myself.
Group Reflection and Closing
This past Wednesday, we had the opportunity to meet Michael Goodmon, who leads the American Tobacco area of Durham and is also Vice President of Real Estate in Capitol Broadcasting.  While he's a man of power in this city, he gave a frank perspective on the assets as well as issues in Durham.  After running through the course of events that led to the revitalization of the American Tobacco district, he began to speak about characteristics of Durham I never knew about.  For example, he discussed some issues surrounding Durham Public Schools, charter schools, and the concept of "white flight".  He also explained how the startups in Durham are very lucky to have such a welcoming community of investors; however, while startup ideas are more easily embraced, they have a harder time scaling and receiving bigger sums of money.
Overall I enjoyed his talk for its honesty and for its passion for this city.  Listening to people of power talk about Durham can sometimes be more bias than we'd like–specifically about all the positive things in Durham's transformation–so it was relieving to hear an opinion that acknowledged and strongly urged for change in some of this city's issues.  With less than two weeks left of the program, I'm hoping to absorb as much more knowledge about this city as I can, because I've realized there are so many faces and characteristics of Durham to learn about.