When we first arrived to Valle Escondido, our bus, with all our suitcases strapped on top, crept its way down a steep hill to get to the parking lot. Soon after, we were informed that we'd have to start every morning by walking up that hill just to get picked up for the day's activities.
I remember reading the emails that were sent out before the trip that stated, "it is highly recommended that you get in shape before coming." I had also spoken with a DukeEngage in Costa Rica alumnus who mentioned the same thing to me in passing. I had casually brushed these little warnings aside, thinking, "I'll be fine. I'm pretty healthy." But the first time I climbed up that hill was definitely a wake-up call.
The first few minutes of climbing weren't too bad, but when the hill started to slope sharply upwards, the pain from the lactic acid started creeping into our leg muscles. The tension invaded our thighs and calves as we fought to lift one foot and place it in front of the other. Our hearts were pounding in our ears and our lungs burned. The slope ahead seemed never-ending. When we finally reached the end and hoisted ourselves up that final stretch, we were all wheezing from the effort.
I thought that "we" were experiencing the same thing, but it was mostly just me. I started realizing, as our cohort became closer, that many of the others had athletic experience. I'd never been the most athletic person, whether it be in terms of hand-eye coordination, physical strength, or endurance. In fact, I'd spent the majority of my life pursuing art and music. I felt somewhat lacking compared to my peers on this trip.
Every time I'd go up that hill in the morning, legs sore from the previous day's adventures, it felt like it was getting harder. The high mountainous elevation didn't provide much assistance to my lungs and heart as they struggled to get oxygen to my muscles. Every time, I'd feel the urge to slow down or give up. But giving up wasn't an option; I had no choice but to keep going.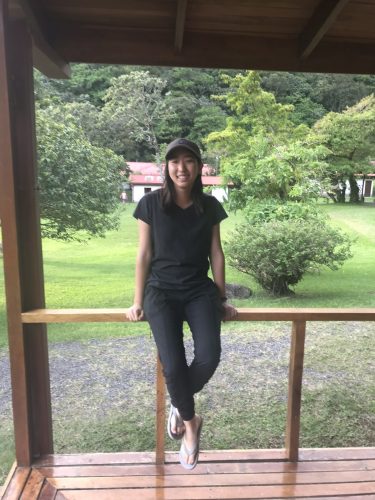 That's a theme that I've noticed on our DukeEngage here in Costa Rica. One of my weaknesses is that I tend not to enjoy trying new things. I fear that I'll be bad at it, that I'll fail and embarrass myself. When I start something and realize that I'm not great at it, I'm inclined to give up quickly rather than pushing myself to improve. I did not want to bring that mindset to Monteverde.
Trekking up that hill every morning and keeping pace with the rest of my cohort was encouraging for me, as I was able to push through my desire to give up halfway. That motivation helped me through other challenges, like struggling through my first experiences with Spanish. It helped me through tree planting, as I climbed up steep inclines to reforest cleared pastures. It helped me through my first ultimate Frisbee game, despite my previously mentioned poor hand-eye coordination. It helped me through the rolling hills along hikes through various cloud forest trails and trips to Santa Elena.
Though I'm still struggling to keep pace sometimes, and often find myself falling to the back of the pack, I'm encouraged by how I've kept pushing myself. I've embraced the challenges thrown at me here in Costa Rica, and hopefully, I'll return home in very good shape.