DukeEngage Gateway Program
Open to all incoming first-year students

Consistent with Duke's longstanding commitment to the global public good, the DukeEngage Gateway summer program is a call to action in students' communities around the world. Open to all incoming first-year Duke undergraduates, the program invites students into the Duke community of engaged peers, faculty and alumni and affords an opportunity to tackle a social problem in their hometown while also beginning to explore their own sense of purpose in the world.
**The Gateway program is an offspring of DukeEngage (a program open to current undergraduates). Information found on the rest of this website pertains to DukeEngage, not to the Gateway Program. Please contact us with questions: dukeengage@duke.edu.
In the Gateway Program students will:
Collaborate with an organization in their home community for at least 100 hours of engagement on a project, over a minimum of five weeks. (Please note that, in accordance with the 2023 Duke Minors Policy, DukeEngage cannot approve projects in which participants will be working with minors).
Participate in a virtual orientation + training session on the principles and ethics of community engagement
Participate in weekly programming (one or two sessions per week) to explore the challenges of community engagement and strategies for both making sustainable relationships and maximizing impact. Programming will consist of at least three virtual reflection workshops led by Duke faculty, plus weekly conversations with Duke partner organizations and others.
Share their summer work in September at a symposium for fellow participants
Receive a $1500 stipend for participating (please note that the stipend will be paid to participants in August when they've matriculated and school has begun. Participants for whom this will cause financial strain should email Inga Peterson, the Associate Director of Operations, at inga.peterson@duke.edu).
2023 Dates
Application opens: Apr 17th
Application Deadline: May 24th
Application Notifications: Week of May 29th
Summer Programming (Community Lunches & Reflection Groups):  July 5th– Aug 5th
Ready to Apply?
Access the Gateway Program application here.
Click here for more information on designing an independent project! Let us know if you need help.
Albert Liu (San Diego, CA)
Organization: Scripps Research Translational Institute
This summer, Albert worked with SRTI to build predictive models in the healthcare domain for diseases prevalent in San Diego County. Considering the increasing relevance of predictive analytics in healthcare, Albert explored potential use cases of predictive models, most notably with the long-term effects of COVID-19. Developing accurate models can aid in the early identification of individuals at risk of developing long-term COVID symptoms and help facilitate appropriate interventions.
Alessandra Peña (Miami, FL)
Organization: It Takes a Village
This summer, Alessandra worked with It Takes a Village to create a novel program that allows for autistic adults in her community to have social interaction and events specifically tailored to them. This new program allowed these adults to be paired with a neurotypical "companion" and social events were organized for everyone involved. They met regularly (approximately 2-3 times per week) over the summer in the community center and had game nights, played basketball, had ping pong tournaments, offered dance and boxing classes, attended theater shows and went to movies.
Alyssa Guardado (Miami, FL)
Organization: Advocate Program 
This summer, Alyssa worked in the Advocate Program's Clinical Unit, which facilitates individual and group therapy sessions, along with various resources to aid court-ordered individuals in overcoming the challenges they face. She provided support for the clinical processes and courses provided, while updating and digitizing files. Alyssa also conducted research on the efficacy of rehabilitation courses within the Drug Department to determine the best way to promote personal growth.
Ananya Das (Houston, TX)
Organization: Interfaith Ministries of Greater Houston
This summer, Ananya worked with Interfaith Ministries of Greater Houston (IMGH), which delivers meals to seniors and supports refugee resettlement, among other missions. At IMGH, Ananya created an executive dashboard and assisted in database reorganization.
Anavi Kaul (Mumbai, India)
Organization: ThinkSharp Foundation
This summer, Anavi worked with the ThinkSharp Foundation, which aims to bridge the rural-urban education divide in India. She collaborated with their founder and in-house teachers to understand the difficulties their underprivileged and under-resourced students face in studying science. Afterwards, Anavi incorporated their feedback to create 15 short, bite-sized animated videos in Hindi to make learning science fun and engaging for the students to improve their comprehension, increase their retention, and spark their curiosity.
Andy Ko (Glenview, IL)
Organization: Yale Online
This summer, Andy worked with Yale Online to assist in the development and popularization of the course Science of Well Being for Teens. He hoped to spread the course to many communities for students and adults who seek insights behind mental health to use.
Arshaan Sayed (Princeton, NJ)
Organization: Grow To Life
This summer, Arshaan worked with Grow to Life, a food pantry serving hundreds of citizens. By building a website, creating databases to improve program dissemination, analyzing data, and doing other tech-related tasks, he helped Grow to Life establish a robust online presence, expand the organization digitally, and amplify community impact.
Bo Chi (Carrboro, NC)
Organization: Carrboro Farmers' Market
This summer, Bo assisted the Carrboro Farmers' Market (CFM) with its community outreach efforts to help families access local fresh food. In particular, Bo was involved in producing materials, helping people on site, and coordinating events to promote the CFM's Double Bucks conversion for SNAP/EBT and other nutrition/food assistance programs so that more people can benefit from these resources.
Catherine Murphy (Springfield, MA)
Organization: Ronald McDonald House Charities
This summer, Catherine assisted the management team of the Ronald McDonald House in Springfield, Massachusetts, with planning and implementing three significant fundraising events that will help fund their mission to provide housing to families with critically ill children that are receiving medical treatment away from their homes.  She helped to create print and digital marketing materials, organized and managed event logistics, and contacted key donors.  In addition, she helped the management team with several operational projects that will improve the residents' experience at the House.
Colin Belton (Wausau, WI)
Organization: Patriot K9s of Wisconsin
This summer, Colin worked with Patriot K9s of Wisconsin (PK9s). At no cost to qualified veterans, PK9s educates and trains psychiatric service dog teams to lead a fulfilling and meaningful life in the community of their choice. Colin fostered and trained a Labrador retriever puppy to be matched with a veteran; planned new fundraising events; and served as an ambassador to the public at community events in hopes of increasing awareness of the prevalence of post-traumatic stress injury, traumatic brain injury, and military sexual assault among our nation's veterans.
Daniel Levin (Pittsburgh, PA)
Organization: Western Pennsylvania Conservancy
This summer, Daniel volunteered with the Western Pennsylvania Conservancy, a non-profit organization focused on land and watershed preservation. Daniel nurtured and maintained an urban pollinator and rain garden filled with native plants that used to be an abandoned gas station. The garden provides a vital community space and is a hub for floral and pollinator diversity in the region.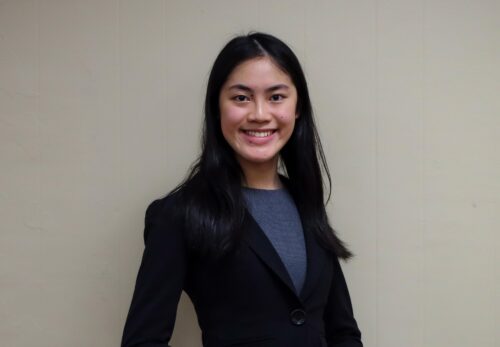 Emily Wang (League City, TX)
Organization: American Red Cross
This summer, Emily partnered with the American Red Cross Texas Gulf Coast Region to deliver hurricane preparedness information to vulnerable and underserved communities in the Houston area. Emily was responsible for organizing preparedness presentations, translating resources to Mandarin Chinese, and creating various forms of marketing content.
Fisher Mallon (Silver Spring, MD)
Organization: North Carolina Mock Trial Program
This summer, Fisher worked as an intern for the Montgomery County Department of Environmental Protection, collaborating with County employees to implement the county's Climate Action Plan.
Georgia Lazarus (Cape Town, South Africa)
Organization: The Legal Resources Centre
This summer, Georgia interned at the Legal Resources Centre (LRC), a public interest legal organization that is at the forefront of the fight for justice and human rights. Alongside qualified lawyers and attorneys, she assisted in providing legal services to the most vulnerable in our communities and used the law as an instrument for justice. Her role included participating in legal research and case preparation for the advancement of pro bono cases and supporting debates on legal, moral and ethical issues which underpin the public and private law cases.
Grace Wang (Murrysville, PA)
Organization: Friends of Murrysville Parks
This summer, Grace worked with Friends of Murrysville Parks to remove invasive species from Murrysville hiking trails and bring more awareness to this ongoing issue through website and social media development.
Jayden Ko (Tenafly, NJ)
Organization: The Grace and Mercy Foundation
This summer, Jayden worked with the Grace and Mercy Foundation, a grant-making organization, to learn about and facilitate the grantor-grantee relationship and help organize and run their "Just Show Up Book Club" and "Public Reading of Scripture" programs every week.
Josh Lin (Ridgefield, CT)
Organization: OCA National
This summer, Josh worked with OCA – Asian Pacific American Advocates to provide support systems to elderly Chinese people who have limited proficiency in English and, in turn, restricted access to mental health resources. Josh used digital platforms like Zoom, Skype, and WeChat to connect Chinese-speaking individuals of all ages, using solidarity and community to prevent loneliness and depression due to isolation.
Kevin Sun (Plano, TX)
Organization: PISD Vision Services
This summer, Kevin combined disability advocacy and digital innovation alongside Plano Independent School District (PISD)'s Vision Services Department to develop a concise web application for visually impaired educational inclusivity and higher-education resources, alongside a 3D printing program for affordable and customizable assistive technology. This streamlines information accessibility for parents and teachers while bridging the gap with hands-on 3D printing for personalized braille guides and tactile maps.
Lindsay Chetkof (Oceanside, NY)
Organization: Operation SPLASH
This summer, Lindsay worked with Operation SPLASH, a non-profit based out of Freeport, Long Island, in order to contribute to its mission of keeping our bays clean and preserving wildlife across the coast of Long Island. Lindsay went out on boats across the coast of Long Island to collect debris and trash from both the water and neighboring marshes. In addition, she gathered data regarding water quality and the amount of pollution collected.
Liz Li (Nanjing, Jiangsu Province, China)
Organization: Jiangsu Society of Environmental Sciences
This summer, Liz gathered volunteers from the public and local universities to study the biodiversity of city water using a database built by us and AI identification methods.
Lucas Wagner (Minneapolis, MN)
Organization: Minneapolis Research Institute
This summer, Lucas worked with an emerging think tank (Minneapolis Research Collective) to develop pragmatic, hyperlocal housing and public safety policy. He leveraged the intersection of his interests — economics, computer science, and government — in service of his community, transforming Twin Cities political systems into kinder, more accessible ones.
Margaret Berei (Mountain Lakes, NJ)
Organization: Minneapolis Research Institute
This summer, Margaret worked with her local League of Women Voters chapter to help create and distribute educational resources for students about local and state government processes, with a focus on opportunities for involvement in decision-making processes.
Megan Tandar (Salt Lake City, UT)
Organization: STEM Action Center
This summer, Megan worked with the Utah STEM Action Center, a state organization that promotes STEM equity in Utah's education, government, industry, and community. She expanded their resource library to allow for greater access to STEM lessons for Utah educators. Megan also developed the Micro STEM Fest to promote excitement about STEM and created STEM kits for distribution across Utah.
Melosa Rao (Mumbai, Maharashtra, India)
Organization: National Facility for Biopharmaceuticals (NFB)
This summer, Melosa worked with NFB's outreach team, which conducts several hands-on training workshops at colleges, especially in rural and under-served communities. She generated a research report to assess the effectiveness of outreach programs and made suggestions regarding areas of improvement. Melosa was also involved in scheduling, costing, and fundraising from the government and corporations for the 'Outreach Advanced Training Programs'.
Neel Mehra (Vienna, VA)
Organization: American Red Cross (ARC)
This summer, Neel worked with the American Red Cross (ARC) in the National Capital & Greater Chesapeake Region (NCR) as the Volunteer Engagement Specialist. He handled the NCR's logistics by handling profile management, profile transfers, hour submissions, fixing any system glitches, and collecting data for the Disaster Cycle Services, International Services, Services to the Armed Forces, Community Volunteer Leaders, Biomedical Team, Health and Safety Services, and Red Cross Clubs.
Ricardo Ureña (Madison, GA)
Organization: Books for Keeps
This summer, Ricardo worked with Books for Keeps, an organization that strives to provide equal access to books in the greater Athens region. As a part of the team, he was responsible for managing and restocking their Little Free Libraries, organizing the book inventory in their warehouse, and helping organize and compile survey data.
Riya Manchanda (Janakpuri, New Delhi, Delhi, India)
Organization: Pratham Books
This summer, Riya partnered with Pratham Books, a non-profit aimed at increasing access to educational material and reading resources free-of-cost in multiple languages and formats across India, to support the education of children, improve literacy rates and spread the joy for learning. As part of the Fundraising Division, Riya raised funds through Pratham Books' crowdfunding platform Donate-A-Book, worked on improving outreach through the platform, and reached out to more donors to sponsor books and libraries for children. She also researched into potential corporate partners for Pratham and prepared a report, followed by outreach through email.
Sahil Patel (Wilmington, NC)
Organization: First Fruits Ministries
This summer, Sahil worked with First Fruit Ministries, a local food pantry organization. He helped set up and organize the pantry, assisted with checking in and registering clients, and distributed food to clients as they come through the pantry. Additionally, Sahil kept track of food inventory and developed an online food database, allowing the organization to have a reliable and permanent food record.
Sal Carlson (Merritt Island, FL)
Organization: Mote Marine Labs
This summer, Sal worked with Mote's International Center for Coral Reef Research and Restoration (IC2R3), based in Summerland Key, FL. He revised a protocol that he helped create last year to measure the surface area of coral as well as aided in other experiments.