DukeEngage in Costa Rica has officially begun! On June 6th, all 14 of us met up with Debra Hamilton and Dinia Santamaria in San Jose for the night before driving up the mountain to Monteverde the next morning. On our journey, we stopped at a fruit market and sampled soursop, lychee, mango, avocado, guava, papaya, passion fruit and more. During our lunch stop, we were greeted by a chorus of howler monkeys just outside the restaurant. It was dark by the time we reached the Valle Escondido Lodge.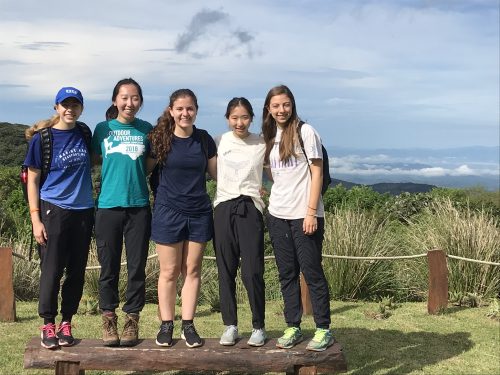 Our first weekend began with a guided tour through the Monteverde Cloud Forest Reserve courtesy of Rick Guindon and Mark Wainwright. They introduced us to the unique wildlife, history, and geography of the cloud forest.
That afternoon, we got our first taste of the Monteverde Institute and the first of three charlas (talks) from superstar conservationist Deedra McClearn. This one about natural history. Sunday was highlighted by a discussion from Professor Bill Eaton, a microbiologist who taught us to consider the importance of the ecosystems and natural processes that occur beneath the soil. Otherwise, we relaxed and prepared for our first week of work.
Our week began with a tour through the town of Santa Elena from our three Spanish teachers: Lilliam, Evelynn and Jessie. Then, Hazel Guindon, daughter of Rick and granddaughter of Wolf (one of the initial conservationists in the area), taught us about the programs and goals of the Monteverde Institute before our second discussion with Deedra, this one concerning biodiversity and the myriad ways in which it can be measured.
In the afternoon, we were introduced to Julio Rojas, one of the trip's coordinators, who took us to the La Calandria tree nursery for our first official job. La Calandria, run by the Institute, can house over 15,000 trees, largely due to Lorenzo and Rigo's gift for finding and germinating local seeds. The institute runs a program which hands out seedlings to local landowners with the condition that they plant them on their land. That day, we delivered 932 trees to the three farmers that came, many of which we will help plant in the coming weeks.
The rest of the week, we fell into the rhythm of working in the mornings and learning at the Institute in the afternoons.
Tuesday and Wednesday we worked at the local high school on a project involving the protected forest on its property. One group went with Randy Chinchilla to map trails through the forest using GIS, while the other group helped make signs that detailed local animal species.
Tuesday afternoon was our first Spanish class, and that evening we ate a typical Costa Rican dinner (Cena Tipica) where we learned about the history and origins of traditional Costa Rican dishes. Wednesday afternoon included our final discussion with Deedra about Mammal Communities in the Tropics.
On Thursday and Friday mornings we planted 660 trees across three different farms including the land of Maikol Cruz, whose trees were delivered to him on Monday afternoon partly in thanks to our help.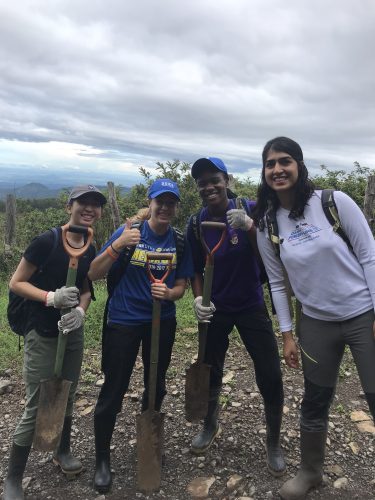 Thursday afternoon was particularly important because Deb spoke to us about the Institute's reforestation efforts over the past two decades and introduced us to the forest integrity research project that we will be working on in July. Right afterwards, we broke into committees.
The Research and Analysis Committee is leading the charge in data collection, entry, and analysis. They will also be responsible for identifying new projects and interests that tie into our research project.
The Germination-Gardening-Engineering committee will learn about how seeds are found and germinated and will  use their unique skills to explore a wide range of potential projects including designing a community rain garden.
The GIS committee hopes to work alongside Randy to learn more about how the Monteverde area is mapped using drone technology.
There will be a committee devoted to identifying and documenting the different species; as well as food, fun, and wellness committees that will identify new activities to help us experience more of the Monteverde area.
And then there's the communications committee, responsible for maintaining this blog and sharing our experiences with the folks back home. We will be sharing pictures, videos and recaps. Furthermore, every member of this group will be responsible for providing their unique outlook on their time here in Costa Rica.
As busy as our first week in Costa Rica seems on paper, there was much we didn't include. We hope to keep updating you over the course of the next two months.
Pura Vida.