Working in Durham North Carolina has finally come to an end. From finishing working with the office of Economic and Workforce Development I have come to learn some things from my experience.
At first, the work did not seem particularly groundbreaking or effective. In fact, as with much non-profit work, it at times felt very repetitive and tiring. Despite these things, the work that we were doing made a deep impact, changed the lives of certain local residents in a positive manner. Our supervisor came in on the last day and sat us down and told us how he was very thankful for us coming into work every day and being patient with him when it seemed like all the work was done. I sometimes felt like I didn't serve enough. Nevertheless, our supervisor reminded us that this work it has always been about investing time and putting effort into the community.
Me working at the office.
Initially, because this placement required working in the office, we often were not able to see whether our efforts were helpful or not. When we were finally able to meet the kids, however it was very satisfying and rewarding. The work that were were doing had actually helped people who were right in front of us! It was reassuring knowing my efforts were having concrete effects on real people.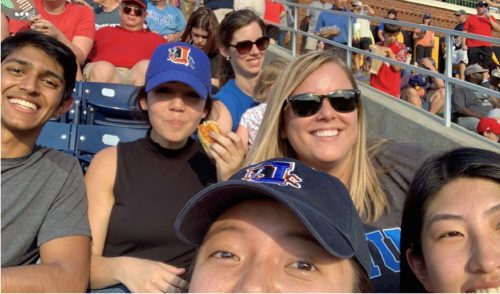 Baseball game with Duke Engage students
One of the most important things I have learned from my experience of Duke Engage Durham North Carolina is that you must open yourself up to the city. I have had countless experiences with the city of Durham, North Carolina and I learned to appreciate it beyond just the more aesthetic things. Brightleaf and the Bulls stadium are definitely fun, amazing places that are a crucial part of Durham's identity. But more importantly, I have had the opportunity to embrace the history, culture, and people of Durham. Whether by taking a civil rights walk around the city or learning about the role Duke has played in building Durham, my sense of connection to this city and the people who live here has grown significantly.