Quick summary of my previous blog posts for new readers: I am in Fiji working on a coral reef conservation project within the local community. Village life relies heavily on fishing the fringe reefs, which have been depleted over the years. I am helping my supervisor, Victor, transplant corals from nurseries back onto the reef.
Over the past two weeks, I moved in with a family for a homestay in the neighboring village, Vatuo Lalai. This blog post will mostly be about my musings and experiences rather than my project.
Everybody seems to know each other, or is related. For example, walking through the market with my host sister, Anna, she stops to shout at random people in the middle of the road. Then she turns to me and says, "That's my cousin" or "That's my uncle."
During these past two weeks, I've still been working with Victor on the reefs, but I've also been helping my host father, Akuila. Sometimes, the chores are related to my DukeEngage project: Moving a cage full of giant clams; Snorkeling with a tour group through the Marine Protected Area; Making a poster to advertise the snorkeling tour*. But often I just help with day-to-day activities: weeding and planting yams on the hillside plantation, painting a roof, helping the kids with homework. While these chores might not have been related to my project, they provide a context for my work. If I were to only plant corals all day, I would forget the people and the life in the community. (Plus, it's important to be a good guest too. If I'm living in someone's house, then I have to contribute.)

*As part of the marine management plan, there needs to be some kind of benefit from closing off a part of the reef. In Vatuo Lalai, Akuila is trying to start a snorkeling tour into the Marine Protected Area. This brings in money and supports village activities. It also incentivizes the protection of the reefs.
The subsistence lifestyle in Fiji relies not only on the sea, but also on the land. I actually really enjoyed helping Akuila on his farm. Akuila is nearly 70, and his sons are all abroad, so he doesn't get any help managing the crops. In the US, we're used to the idea that a farm is a vast expansive flat land filled with crops, but the topography of Fiji is full of hills and jungle; the farms basically extend directly into the slopes. We can easily spend an hour just walking up and down hills through thickets of chopped down trees before we reach cleared farming land. All the while, lugging sacks of compost and seed yams. But when you read the top, dang, what a view.

The climb to the farm. (Originally, when I was taking this picture, it only showed Akuila and Ruthi in front of me. How embarrassing would it be if I only showed a elderly man and a little girl carrying heavily sacks; I helped too!)

A view from the top of the farm. On a clear sunny day, you can see all the way to the surrounding islands out at sea.

I made a crude sign to help advertise Akuila's MPA snorkeling tour. (As you can see, I'm not artistically talented. This is why I study engineering in school.) The frame that the sign is glued on is made of driftwood that Akuila found on the beach. Meanwhile, the paper, art supplies, and tape for lamination were supplies that I bought. This sign tells you a bit about consumption culture: I have this mindset that I have to buy everything to make anything, but in reality, finding/reusing "junk" is the norm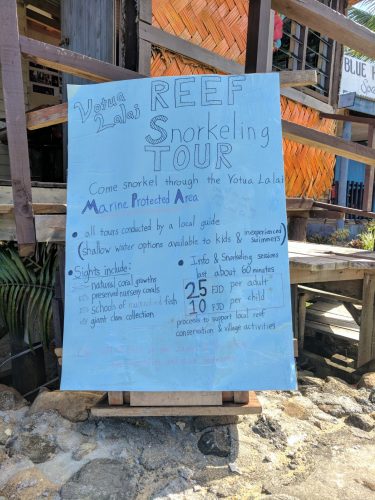 Vatuo Lalai is right next to a tourist resort, like literally next door neighbors. It's curious how the dynamics of the village change because of this. Every day, tourists just nonchalantly walk around the village, as if the village was just a decoration that the resort built to improve the guest experience. In my opinion, the abundance of tourist resorts here on the Coral Coast is saddening. Tourists easily bring in millions of dollars into these resorts each year, but the owners are all international conglomerates which siphon the money straight out of Fiji. Meanwhile, the employees, which are all local residents, are working for minimum wage (which is about $1.25 USD/hour). Bula, welcome to "paradise."