Last weekend, DukeEngage Portland was camping at Opal Creek Ancient Forest without internet access or computers. When I got back, I forgot to post the Branching Out timeline of the week. Oops. So here are weeks 2 and 3. Enjoy!
Crag Law Center Summer Party | Crag Law Center, a partner organization of DukeEngage Portland, invited all of us to their summer party, where we chatted and ate free food.
Portland Duke Send-Off Party | On Sunday, we also went to the Portland Duke Send-Off Party at the beautiful home of Mark and Debra Madden to give advice to incoming freshmen and chat with alumni. (There was also more free food.)
Move to PSU | After the first week and a half at Lewis & Clark's campus, we finally packed up the van and moved to Portland State. Commutes became simpler, window views got better, and we were much happier.
Last Thursday on Alberta | Every last Thursday in the summer, Portland closes down fifteen blocks of Alberta Street to host a street art festival with music, artists, dancing, and more. Some of us visited the festival and had an amazing time.
Tour of Oregon Historical Society | The group visited the Oregon Historical Society and learned about the origins of the land now called Oregon.
Camping at Opal Creek Ancient Forest | Early in the morning, we left to go camping at Opal Creek Ancient Forest! We saw some of the most amazing scenery imaginable. Here is beautiful Opal Pool!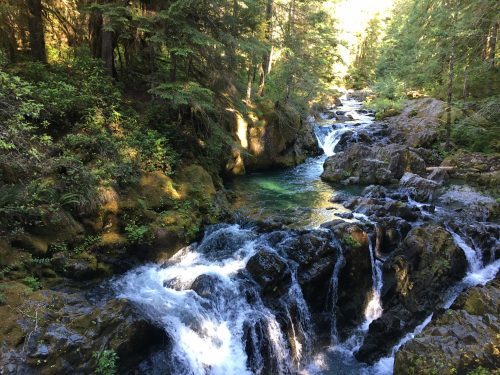 Hiked out of Opal Creek Ancient Forest | After an impactful camping trip with lots of hiking and lots of laughter, we hiked out and drove back to Portland State. Here is a waterfall we saw along the way!
Saw Fourth of July Fireworks from Burnside Bridge | We visited Burnside Bridge for a beautiful night skyline and a view of fireworks in the distance.
Group Dinner | We had a group dinner discussing how food insecurity and homelessness are intertwined, systematic issues in Portland.
Farmers' Market | We walked around Portland's huge farmers' market (located three minutes away from the dorm!) and bought local produce, candles, coffee, and more.