Jasmine (T'19) – DukeEngage Orange County '16
The guiDE program provides DukeEngage alumni a pathway to continue their commitment to service and civic engagement by providing leadership, mentorship and service opportunities that support wider DukeEngage efforts on campus and beyond.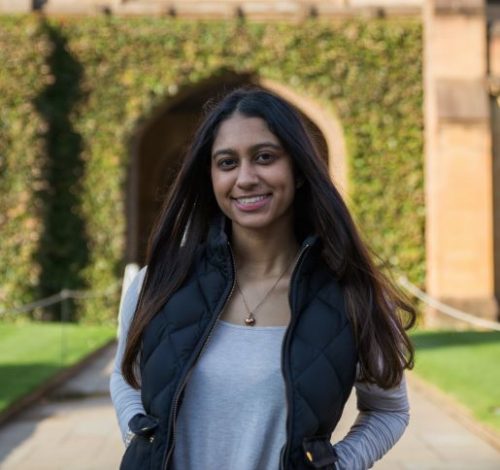 Jasmine
DukeEngage Partner Organization: Girls Inc, Orange County
Majors: Computer Science and Sociology
Contact Jasmine: jss97@duke.edu
Jasmine is a senior pursuing an Interdepartmental Major with Computer Science and Sociology and a minor in Global Health. She participated in DukeEngage Orange County, where she helped to develop and teach a STEM curriculum and female empowerment classes. Additionally, she served as the fieldwork coordinator for her cohort. Her DukeEngage experience helped her to realize her passion in the intersection between technology and society and to eventually choose her major and minor. Additionally, through her DukeEngage experience, she was able to become a fellow in the Global Women's Health Technology Center, where she continues to teach local Durham students and help to develop two cervical cancer detection devices.
Jasmine's Six Word Story describing her experience:
"Teaching STEM, learning about my own abilities"
Resource Guide
Following her summer working with Girls Inc of Orange County, Jasmine developed the following list of resources for students who are interested in a similar program.
"This article discusses various ways to close the gender-related STEM gap such as female representation, extra-curricular STEM activities, and creating more diverse and appealing STEM curriculum."
"Inspiring the next generation of female engineers: a Ted Talk by Debbie Sterling"
"This TED talk stood out to me and highlighted the importance of encouraging girls to participate in STEM at a young age. The talk touches on the need for girls to be exposed earlier and for more curriculum to be appealing to girls as well. Although I attended an all-girls school that encouraged girls to pursue science and math for most of my life, hearing this TED talk helped me to realize the necessity of sharing that confidence and excitement with other girls."
"FEMMES: This is a Duke student-run club that goes to local elementary schools and teaches girls STEM-related curriculum and activities after school. This club was an amazing way for me to have continuity after my DE experience, and to connect with the local Durham community.
Triangle Tech Girls: Although this organization has an emphasis on computer science, the NGO's philosophy is to teach and expose girls to computer science. I have worked with the Philadelphia area branch of this organization to teach various tech related workshops to girls, and DukeStudents could participate the same way."