Alexander '22 (DukeEngage China – Zhuhai)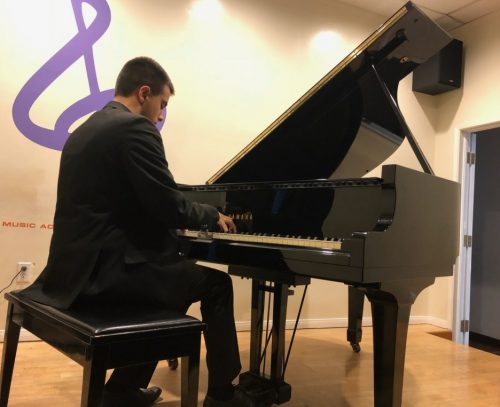 Alexander Behura

Hometown: Yorba Linda, CA
Major or intended major: Linguistics and Chinese. I am on the Pre-Med track, with aspirations of becoming a cardiothoracic surgeon.
Why did you want to do DukeEngage? Why did you choose your DukeEngage program?
Initially, DukeEngage seemed like a fantastic opportunity to tick off many of the med school requirements- cultural competency, leadership, working in a team. So, I delved into the idea a bit more, and found that it was much richer than I initially thought. The DukeEngage China-Zhuhai program seemed almost tailor-made for me. As a Chinese and Linguistics major who plays classical & jazz piano, has never been to China, and loves to teach, I could be teaching, learning, living, and breathing Chinese while teaching English and music. The program director, Professor Ku, was my faculty-in-residence in Pegram, and she was a great mentor during my freshman year. From the mentor, to the topic, to the country, DukeEngage Zhuhai seemed to call out to me, and it was an opportunity I couldn't pass up. 

What was it like to integrate into your host community or organization?
My host family consisted of a mom, dad, and student enrolled in the school at which we taught. They were very welcoming, and I think my transition was much smoother than most because of my prior knowledge of Chinese language and culture. Yet, Chinese in the classroom differs substantially to Chinese as spoken by native speakers, and even the best Chinese teachers could only teach an impoverished perspective of the uniqueness of Chinese culture. Living the language and living the culture was an invaluable (albeit sometimes difficult) opportunity to sharpen my knowledge and appreciate the nuances of Chinese culture; it was fascinating to me that paradigms and lifestyle habits that we assume are universal could be radically different, and yet just as effective. Eight weeks, though filled to the brim with rich experiences, would however never be enough to fully experience life in China. But, the host family connection was strong enough with the Duke students that the farewell dinner was full of tears.
Describe the work you did.
I taught English to Chinese middle school students. We arrived at the school by 8:30 to prepare for our first class, took our group to our favorite spot on campus with our laptop and chalkboard, and taught oral English. We were given a textbook and topic, but it was up to us to design the class. We had a two-hour lunch/rest break, in which we could go off campus and eat with the students. I often played badminton and table tennis with the students as well. At the end of their school day, we taught art classes for an hour to those who signed up. (I taught a seminar on jazz fundamentals, and was also the pianist for a singing class.) Our day ended at 5:30, and we walked home to our host family or stayed to spend more time with the kids.

What has DukeEngage led to, for you?
In academics, DukeEngage compelled me to take on Chinese as a second major. In addition, I ended up taking a graduate-level Linguistics course on Second Language Pedagogy, where I specialized in Chinese. At Duke, I joined the SLG LangDorm, a multilingual, multinational community with events celebrating our multiculturalism. DukeEngage played a key role in my decision to ultimately become President of LangDorm. This year, to emphasize the cultural aspect of our community, we are inviting several professors to talk about language and culture- DukeEngage again was likely in the back of my mind when deciding on this. Finally, as I worked my way through the Chinese courses, I always had DukeEngage in the back of my head through which I could retroactively connect with what we were learning in class.
Ask me about:
The food. (We had some of the best seafood in China, and also a scorpion. Please don't ask me to describe what durian smells like.)
The moment that made me think "I belong here/I am making a difference."
The moment that made me think "Please let me get out of here," and how I got over that second part.
How I made the most of my time there.