It is my last week with my community partner, OPAL Environmental Justice Oregon. I haven't really processed it yet. It feels surreal, and mostly I think I'm in denial that I'm leaving.
While I delay deciding how I'm feeling about this, I'm going to leave a review of my internship experience.
It may read a little like a typical Yelp review: rambly, disconnected, biased, and with unsolicited opinions. Just as different palates and circumstances determine different cravings for food, I write this understanding that the particular composition of one's life calls for various experiences.
Sometimes they're things you've never tried. It can come at the right time. It can set a new standard. It can be a nourishing, colorful plate full of food for growth. All of the above was the case for my time at OPAL. All in all, if this were a yelp review, I give OPAL five stars for showing me what's possible, for myself and the communities I will continue to serve.
But my "five stars" could be your "no star." So I hope this "Yelp review" also serves to aid future interns at OPAL understand OPAL as a community partner beyond what one can scavenge from the internet.
First impressions
On my very first day of work, I walked in mildly anxious and walked out wildly excited. At first I was a little shy, but as the days went on, the staff at OPAL allowed me to feel comfortable, and I felt like I "vibed" well with the staff. My input was valued, and I didn't feel like I was "just" an intern.
Here are things that surprised me:
Coming from the East Coast, the office culture felt relaxed and casual. No one will mind if anyone come into work a little late. I can wear whatever I want, and even my punny "Koala-tea" t-shirt and jeans will be tolerated. However, that does not mean that we aren't professional. Everyone still gets things done just as well, if not better. Feeling comfortable is key to producing good work. I think a lot of workplaces can learn from this.
Introductions often included pronouns. If someone wasn't sure, they asked or referred to me as "they." It's just not a thing from where I'm from, and I appreciated that consideration to create an inclusive environment.
OPAL does SO much. OPAL impacts both the local, state, regional, and national through policy advocacy, alliance building, training leaders, community organizing, educating youth, and much more. They're a really incredible organization I was honored to support. As they say on the website, "At OPAL, people of color and low-income people are in charge. We're cultivating leadership where we need it the most: among people decision-makers usually overlook. Here, individuals become members and join a growing movement for social justice."
Why OPAL was a good fit for me
"OPAL" stands for "Organizing People, Activating Leaders." Even before I started with OPAL, it was my first choice among the many amazing partners for the Portland DukeEngage program. What OPAL needed and what I wanted out of this experience almost perfectly aligned. I wanted to do design work, and I got that. I wanted to understand nonprofit work around environmental justice, and I got that. I wanted to work directly with youth, and I got that. As a woman of color from a low-income background, OPAL's goals hit close to home. Therefore, my work felt personal, and I was 100% invested in it.
Would it be a good fit for you?
I can talk enough about how I loved opal, but if you're a prospective intern, you're probably wondering: will it be a good fit for you? You need to ask a lot of questions. You need to be flexible. Don't be afraid to say something, even as small as asking for the window to be open. You need enthusiasm for the work that OPAL does. Take advantage of what OPAL's staff can teach you. Compared to other DukeEngage community partners, things are a little scrappy at OPAL, even for a nonprofit; you need to be okay with that.
My work
There is no regular "day-in-a-life." There are many cups of tea. Most days, I pack lunch. Sometimes, go out to the many amazing restaurants nearby. Being in Jade District means there are plenty of delicious Asian restaurants within walking distance. I often do my groceries at Winco, a very affordable grocery store 5 minutes from work. I won't let Green Zebra (a "hip" grocery store closest to PSU) rip me off on a $5 bottle of kombucha.
The majority of my time was spent on graphic design and creative work: making posters, making presentations, and even video editing. What saved my butt was having taken a multimedia graphic design class taught by Michael Faber at Duke, as well as rusty skills from high school yearbook and literary magazine. Otherwise, I think I might have been entirely overwhelmed with the work. Another thing that saved my butt was learning shortcuts. That saved me many, many headaches.
To keep up with my work, I had to learn to be organized. (I think my mom would be proud if I could apply this skill to my room.)
Design work involves a lot of sketching and iterations.
In designing a logo for Up With Riders (a campaign to stop fare hikes and win expansion of fareless, decriminalized public transportation) I took this initial set of drafts another designer had sent over:
and did this:
to get this: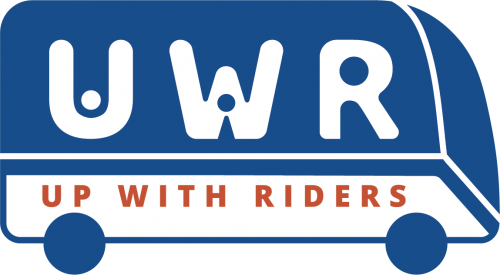 and made a t-shirt with it:
A very proud moment was Movement of Movements coming together, OPAL's annual fundraising event in which community leaders read historical speeches that have sparked social movements. The design materials I produced met people everywhere… on stage as a presentation, greeting people by the doors as sponsors posters, worn as T-Shirts, and held in their hands as programs throughout the night.
It was empowering and motivating to see my projects come to life in synergy with the work that OPAL does.